Written by Claire Nief
Are you planning to spend your summer in Tilburg and afraid of getting bored? Don't worry, I got you. I was recently wondering: " What are we going to do if it's not raining anymore?"  How to really enjoy the weather getting better and celebrate summer? "Well, I thought, festivals!".
I decided to take a look at the summer events happening near Tilburg, and my mind got blown. If you like to party, you will be pleased to learn that Tilburg has actually become a focal point for festivals these recent years, and more generally all kind of musical and cultural events! There are a lot of festive things to attend, so I concocted just for you this program for your summer 2018. Here are 5 cool events happening in or near Tilburg.
Best Kept Secret
Beekse Bergen (Hilvarenbeek), 8 – 10 June
https://www.bestkeptsecret.nl/
€84 for one day
"Turn off the mainstream and see what's really out there"
Alternative music and multi-genres, Best Kept Secret is one of the most famous festivals in Europe, and it's taking place just 15 minutes bike from the center of Tilburg! How awesome is that?
What is great about this event is that it gathers big names but also new discoveries from many different genres as indie, rock, hip-hop, electronic, and many styles mixture. There are 5 different stages at the festival, and Arctic Monkeys will be performing on  the main one (book your Friday 8th!). You will also be able to listen to the Kills, LCD Soundsystem, The Nationa, CHVRCH, Vince Staple… As well as a band called Let's eat grandma, which sure sounds like an interesting idea.
One of the many reasons you should try this festival is that it also has a food line-up… From Italian to Asian cuisine, by way of plain meatball and gravy sandwiches, your palate will be as satisfied as your ears.
Festival Mundial
Tilburg Spoorzone, 23 – 24 June
https://festivalmundial.nl/
€47,50 for one day
"The most danceable festival"
This famous festival, located just near the central station, gathers many different music style : dance, hip-hop, rumba, modern pop, electro…  But the greatest part is that it is not only a mix of different music genres, but also and mostly a real cross-over between cultures: there will be plenty of food trucks dispensing cuisine from all over the world, different art forms performances, lectures and event organized by the university… This whole festival is promoting diversity and openness, and people come from all ages and all over the world to enjoy it, which is pretty cool. Everyone will find something they like in this huge diversity , either it is a big collection of food, awesome music, or just a really nice and festive atmosphere.
Woo Hah!
Beekse Bergen (Hilvarenbeek), 13- 15  July
https://woohahfestival.com/
€59 for one day
"WOO HAH!"
Biggest hip-hop festival in the Netherlands, this event is taking place in a pretty cool background, which is a safaripark near Tilburg. Bring all your swag and rap punchlines because this year's artists are all excellent and famous: you can expect to see A$AP Rocky , Cardi B, J. Cole, Rich Brian,  Migos…
Within two years, this festival has grown considerably, and become really famous internationally for its good line ups. Ah, and if you have a board, the festival also counts a skatepark in addition to its 3 stages… Because a festival is not complete if it doesn't have its share of broken bones! So if you are a fan of hip hop and rap music, this is definitely an event you shouldn't miss!
Tilburg Fun Fair
City Center, 20- 29 July
http://www.detilburgsekermis.nl/#attracties
Free event
"Tilburgse Kermis is coming to town!"
Are you ready for 3 kilometres of street party?? The fun fair of Tilburg, or Kermis, is the biggest of the whole Benelux with more than 200 attractions, one million visitors each year, and the latest and coolest rides – from rollercoasters to catapults, be ready to feel sick and to love it!
Not a thrill seeker? Don't worry, you will also find there more chill attractions, as well as some cool music, yummy  food stands, markets, a theatre and a giant parade. On the last night of the fair, you will also be able to observe the magic of the closing fireworks. This Kermis is a big part of the city's traditions and has existed for 440 years! In fact, the Fun Fair is so important for Tilburg and the whole country in general that it has been nominated to be a UNESCO protected event. I should also add that it is one of the most LGBT+ and open minded event in the Netherlands, especially on Pink Monday, one of the biggest LGBT+ events of the Netherlands!
If you are here at the end of July, you cannot miss this event! I can assure you you will not be able to see it all, but you should definitely try.
Draaimolen
Charlotte Oord, 15 – 16  September
https://draaimolen.nu/?lang=en
€39 for one day
"Expect great music, awesome stage designs and a day filled with love."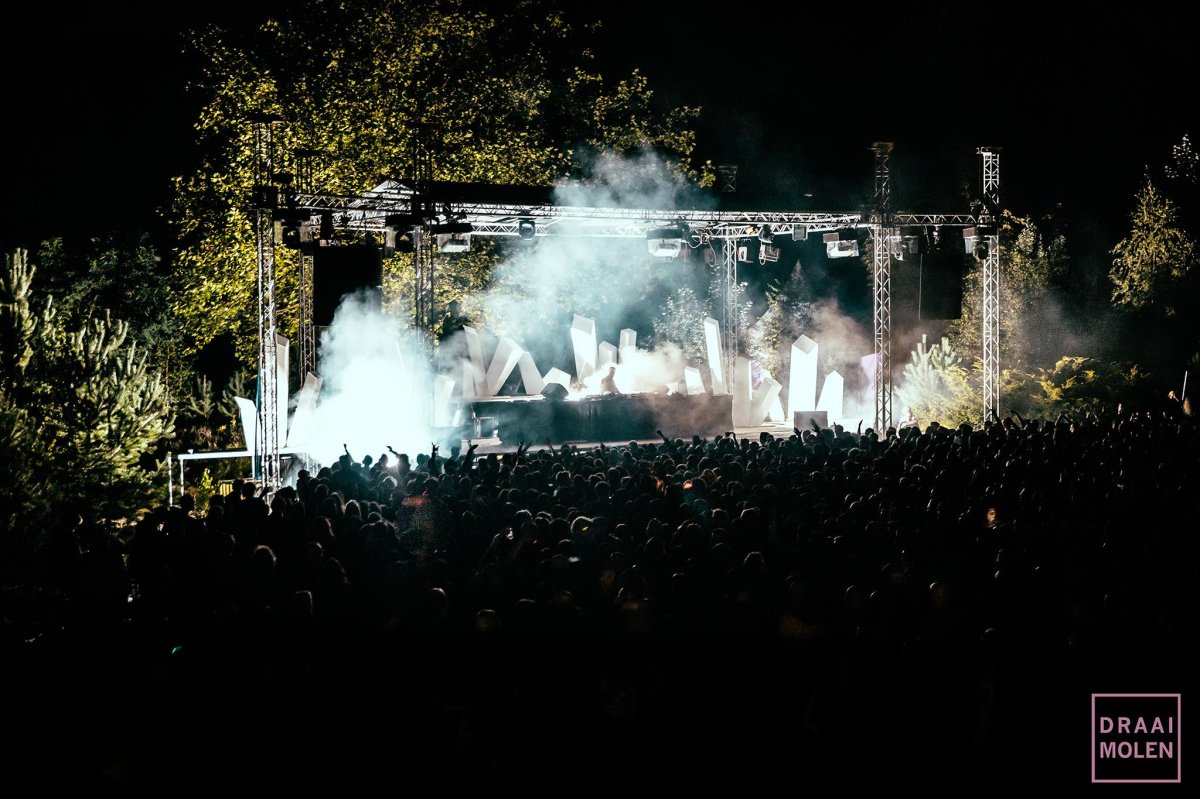 For their 5th anniversary, you can expect Draaimolen to get to the next level this year! This event is an underground dance festival, with an eerie and intimate atmosphere. Internationally famous,  it is part of the top 50 most famous festivals in the Netherlands, and it's growing from year to year. For this year's line up, you will see perform top DJs as the Black Madonna, Dixon, Motor City Drum or Nina Kraviz.
Oh, did I mention this festival is held in a forest? Yes, in a forest! What coolest background can there be for an underground festival? This is a must-go if you like dance music and immersive experience.
So, are you excited for this summer yet? I am! But keep in mind that this list is non-exhaustive and that many other festivals are taking place in Tilburg, around Tilburg or in other cities this summer. Some of these festivals are also really popular and get sold out pretty quick! So if you are interested in one of those, you should get your ticket as soon as possible. You can buy them, as well as check the after-movies to get a better idea of the atmosphere on the websites of the festivals.  And if it is already sold out, do not despair and take a look at the site https://www.ticketswap.nl/ , you might find what you're looking for!